Branded Truck Parts in Omagh

Here at Raymond Doody Truck Parts we stock many of the leading branded truck parts in the industry, including:
Scania, Bosch, Febi, Diesel Technic, Firestone, Hella, Sim, Valeo, Rubbolite, Sachs, Cooper Air Filters, Wabco and Shell Lubricants.
If you have any enquires please do not hesitate to ring and speak to one of the team. The types of products that we stock are: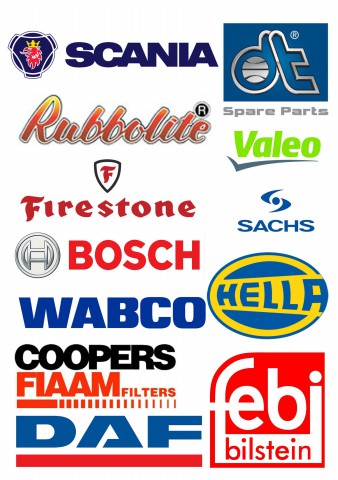 Fans/Fan Belts
Battery's
Air Springs
Wiper Blades
Brake Shoes
Brake Callipers
Brake Discs
Alloys
Mud Guards
Mud Flaps
Turbos
Alternator
Air Filters
Fuel Filters
Radiators
Bulbs/LED'S
Interior Cab Parts
Fifth Wheel
We stock a lot more products and components than we have listed and but only named the main products above, but as we are a growing company we have diversified into other fields such as:
Car and Truck Cleaning Equipment
From the top to the bottom we have all your cleaning accessories stocked and ready. We have glass cleaner, tyre foam, traffic film remover, polish, alloy wheel cleaner, buckets and 2 stage and 3 stage brushes.
Scania Clothing and Truck clothing
We sell Scania jackets, truck beanies, hi visibility gear and Scania Hoodies. All clothing is available in men's, women's and children's sizes.
Scania Accessories
Truck flags, seat covers, diesel train horns, wheel nut covers, mud flaps, cab kettle, cab fan, beacons, wall maps, cigarette lighter adapters, novelty cab items, jump cables, air guns, bungee cord, reflective sheets and strips, wide load signs, cb aerials, cb systems, fire extinguishers, air fresheners, tax disc holders and many more.
Lubricants, Oils etc
Shell engine oil, Dot 4, Automatic transmission fluid, High performance fluid, high performance engine oil, fifth wheel grease, anti freeze, gear oil, de-icer, windscreen wash and white grease.
Please call us using our number or alternatively, you can also get in contact with us by filling in the contact form